Systematic Review - a comprehensive survey of a topic in which all of the primary studies of the highest level of evidence have been systematically identified, appraised and then summarized according to an explicit and reproducible methodology.
Narrow scope
—Focus - answering specific questions
—Discusses key findings & interprets the results
—Critical analysis of the included studies
Meta-Analysis – a survey in which the results of all of the included studies are similar enough statistically that the results are combined and analyzed as if they were one study.
—Statistical process commonly used with systematic reviews
—Combine the data from multiple individual studies into one analysis
—Can provide statistical power for small SRs
There can be Meta-Analyses of studies other than SRs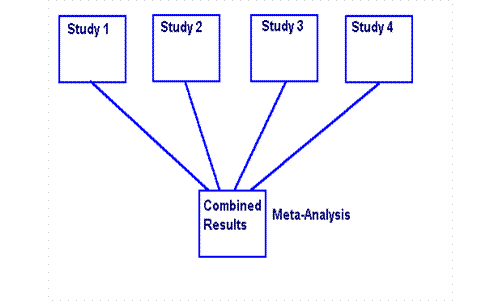 Know the difference between Systematic Reviews and other kinds of review articles
Narrative Reviews
—Broad focus on a topic.
—Can provide an overall picture of the available literature on a topic.
—Describes the outcomes of studies – but does not review the study design.
Critical Summaries
Produced by evidence based journals.
—Provide easy-to-read critical summaries of original and review articles.
—Can help the practitioner stay up to date.